Goodbye Primary 7 we will miss you.
P6 are on a winning streak!
Primary 6 continue to go from strength to strength as they scoop up more awards. Having won SciFest NW they scooped up another award at Junior Innovators in Jordanstown yesterday where they were awarded the Communicator Award 2018. In addition, Mrs McCormick was recogniesed for her efforts in developing the STEM curriculum in Newbuildings PS as she became STEM Teacher of the Year 2018.
Parent Consultation Now Open
Our parent consolation questionnaire for 2018-2019 is now open.
We are looking for your suggestions to help us with our Extended Schools plan for 2018-19.
Please follow this link to access the questionnaire. https://goo.gl/forms/tbo0oHtYQauo9i2n2
Thank you for your suggestions and ideas.
- - - - - - - - - - - - - - - - - - - - - - - - - - - - - - - - - - - -
Past Activities
Introduction to robotics
We had a wonderful evening on Tuesday when Joanne from SENTINUS came along to teach us a little about programming and STEM. Mums and Dads (and Kids) had great fun programming and learning how a robot works. Well done to everyone who participated.
Speech and Language for Parents
Thank you to all who came along to our speech and language information meeting on Tuesday night. It was a great session with lots of practical advice for all parents such as:
- introduction to speech and language
- what is typical talk at this age?
- tips to develop communication
- how to seek help if you have concerns
Mental Health Awareness for Parents
We had a fantastic session last Tuesday on how parents can build resilience in their children at home which prepares them for life experiences. Thank you to all who came along.
BCS IT Educator of the Year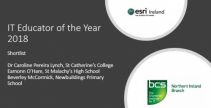 We are delighted to have Mrs McCormick recognised by the BCS for her efforts to develop IT in our school at their awards ceremony last week. Well done!
P6 crowned SciFestNW WINNERS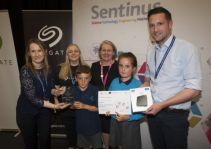 Newbuildings Primary School's Primary 6 were crowned SciFest winners 2018 for their contribution to learning through STEM. Well done Mrs McCormick and Primary 6.
Music for Royal Wedding Lunch Celebrations
Royal Wedding Celebrations in School
Welcome To Newbuildings PS!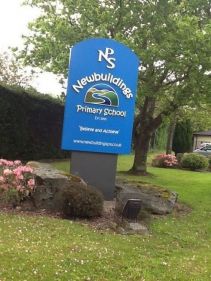 Welcome to Newbuildings Primary School! Our motto at Newbuildings is 'Believe and Achieve'. We want to inspire all our pupils to believe in themselves and their abilities and that they can achieve throughout their whole lives.
We want children to begin their school life with a high sense of self-esteem and we believe that building block is essential for being successful in school and in life. Newbuildings Primary School is a friendly place, a busy place and a place where there's a lot happening. Hopefully our website will give you a good taste of what is going on throughout the school and also provide you with regularly updated information and some resources. We hope that you enjoy your visit to our website, and that you find any information you are looking for.
Please feel free to leave comments in the Guestbook, or contact the school direct (details on contacts page) with any queries you may have. Thank you for visiting!
Cyber Bullying by P7B - help sheet and comics using Comic Life
Pupils of the Week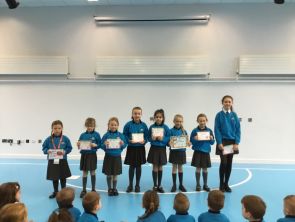 P7 presenting cheque to Foyle Hospice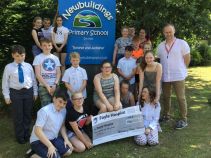 At the start of the year P7B organised a coffee morning for Foyle Hospice. Today they presented a cheque to Ailbhe, from Foyle Hospice, for £460. This also included money for 2 hamper draws during the year that the P7 children collected.
School Council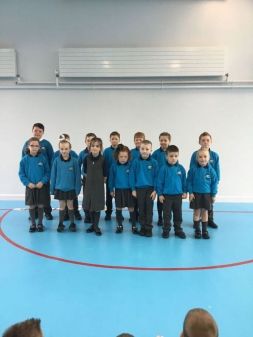 Congratulations to Mrs McCormick who is now a Certified Raspberry Pi Educator.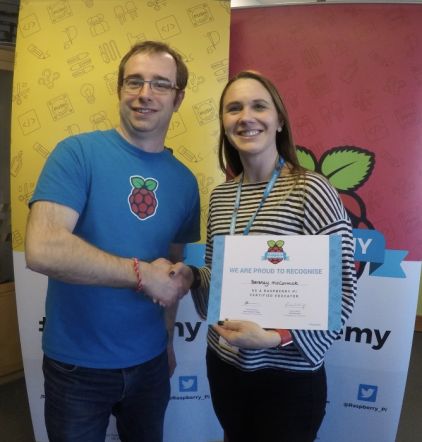 Farewell to Ruby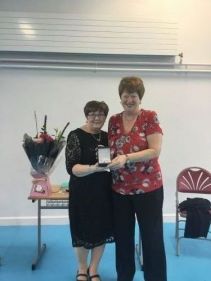 We had a special assembly on Friday for Ruby Smyth. After over 30 years working in the school Ruby has decided to retire. We will all miss her and hope she enjoys her well-earned retirement.
Congratulations Mrs Nicholl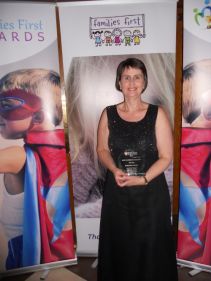 Mrs Nicholl has been rewarded for all her many years hard work within the school. She is pictured at the recent Families First award ceremony held on Saturday 7th October, at The Abbey Hotel, Donegal Town. She received an award for Best Classroom Assistant with a commendation for contribution to the After School Club.
Amazing Easter Mad Hair and Easter Bonnet Day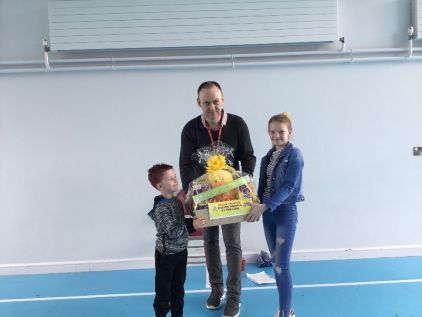 Newbuildings Primary School, 83 Victoria Road, Londonderry, BT47 2RL. Tel no: 028 7134 3896