Gaming Ages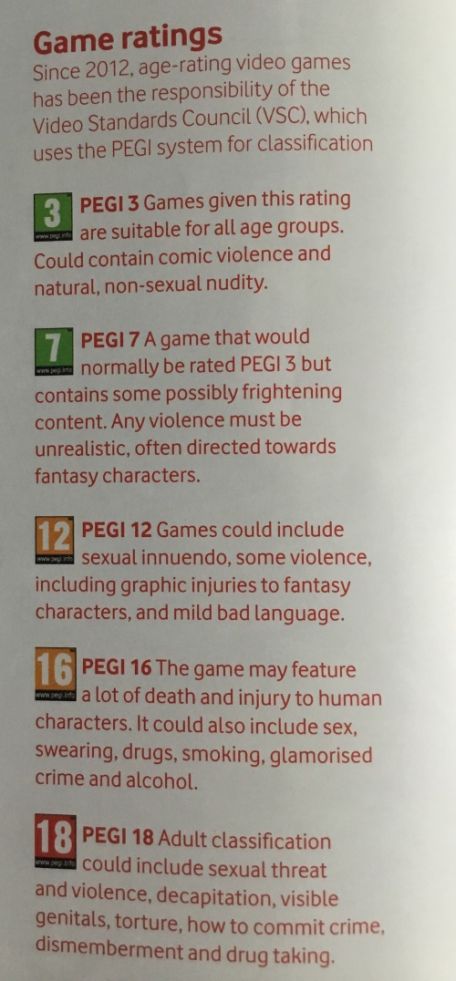 Do you know the age restrictions for computer games that your child might be playing?
The guide opposite shows the age restrictions for computer games. All games must have this code on their games. Some children might be playing games like GTA.
GTA (Grand Theft Auto) is an over 18 game and includes content totally inappropriate for children, especially of Primary School age.
Game Ratings

Digital Awareness
This page is for parents who might want information about digital awareness. Technology plays a big part in all our lifes and new technology is coming out all the time. One of the most important things to do is to talk to your child. You need to know the Apps and websites that your child might be accessing and together identify the potential dangers involved as well as the benefits.
Have an open and honest dialogue about the technology they are using and teach them 'digital resilience'. Digital resilience is the ability to recognise when they are at risk online and know what to do about it.
Social Media
Did you know:
78% of 10-12 year olds in the UK have social media accounts.
49% of under 13s have Facebook account (the minimum age is 13)
40% of 8-17 years said they have received negative comments on a photo they posted.
35% of boys and 51% of girls worry about how attractive they look in photos they share
Newbuildings Primary School, 83 Victoria Road, Londonderry, BT47 2RL. Tel no: 028 7134 3896